FINANCIAL INCLUSION PROGRAM FOR LATIN AMERICAN MIGRANT AND RETURNEE MICRO-ENTREPRENEURS
Why was the Program initiated in Mexico?
Insecurity and a lack of economic opportunities have driven thousands of people to seek a better life through migration. Many have managed to reach developed countries such as Canada or the United States. However, others have chosen to stay in Mexico due to the challenges and risks of crossing the border, while some of those who did cross have now returned to the country. Most importantly, many of those who could not cross have found a new home in Mexico.
Thus, in the past, Mexico was a "transit" country for those seeking opportunities in the United States. Now, Mexico has become a "destination" country for populations from countries like El Salvador, Guatemala, Honduras, and many others. We have started in Puebla and have plans to expand to other states in 2024-25.
PURPOSE OF THE PROGRAM
Provide tools so that migrants and returnees can access the exercise of their social rights. Through training and access to financial resources, we aim to boost the resilience and socioeconomic integration of these populations so they can have a positive impact on their host communities.
Identify and overcome the obstacles faced by migrants and returnees in conducting their businesses.
Promote financial education among migrants and returnees so that they can achieve full financial inclusion.
Assist people with limited resources in acquiring skills to build a secure and sustainable future for themselves, their families, and their communities.
Enhance organizations that provide microfinance services and economic development products, microfinance institutions (MFIs), savings and credit institutions, social enterprises, for-profit organizations, development organizations, and other socially responsible institutions, as well as various NGOs.
Read more...
Who does the Program help?
Direct Beneficiaries
We have three different groups of beneficiaries who are people in situations of mobility within Mexico:
Latin American brothers and sisters. In the last 5 years, over 500,000 people from 11 Latin American and Caribbean countries have applied for and received permanent residency status in Mexico, and this number increases significantly each year. This allows them to stay in Mexico and develop their businesses to provide income for their families.
Mexicans who have returned to their country, either voluntarily or involuntarily. Many of them have come back and do not find a framework for economic and financial inclusion. There are millions of them.
Internally displaced. This includes Indigenous People who arrive at new locations without many resources. They also lack economic and financial inclusion in their current location.
**The majority of the beneficiary population are women heading their families and single women.
Indirect Beneficiaries
Families of participants in Mexico and in other countries receiving remittances from the micro-entrepreneurs.
Education for financial services entities that have not previously worked with the beneficiary populations.
Various NGOs and organizations address migration issues and want to learn how to support migrants and returnees in accessing financial services and products.
Governmental organizations (Government offices) that work to recognize the economic and social potential of migrants and returnees, to promote their impact on the economy and local development in host communities.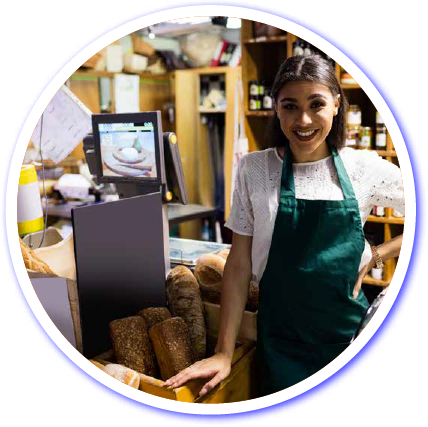 Economic Inclusion
At IDEAS, we work on developing a unique offer for Latin American migrant micro-entrepreneurs and those returning to Mexico who often face economic exclusion. We support them on the challenging journey of economic and job inclusion to develop income sources such as:
Finding formal job positions.
Creating their own businesses.
This leads them to have a dignified life and economic stability. Well-paid formal employment is often hard to find for resident migrants. For this reason, IDEAS offers business training courses and technical assistance for those looking to start or grow their businesses. Some migrants have received counseling in their countries of origin, while others face a steep learning curve to learn how to be profitable in a new market.
On the other hand, there are Mexicans who are excluded from their economy, including indigenous communities, women, and people with different sexual orientations, as well as Mexicans who return home voluntarily or are deported after decades in the USA. All of them traverse paths that can be shared by the Latin American migrant micro-entrepreneurs established in Mexico.
Financial Education
Why do most of the Latin American migrant population need training before becoming good debtors in Mexico?
The urban Mexican economy is very different and has a high level of sophistication with established competition. Central American populations that simply replicate the same things they did in their home country often fail. It would be unfair to encourage them to incur debts they cannot repay. Guidance is essential.
Some Latin American migrants residing in Mexico have been employed in their home countries. They seek employment, but it is extremely hard to find it during pandemic times and the slowdown of the Mexican economy. Their only option is to become owners of their own businesses. They need training to learn how to be successful entrepreneurs.
Training helps them turn their ideas into viable businesses. They learn techniques to increase their clientele and develop a regular cash flow to pay the weekly installments.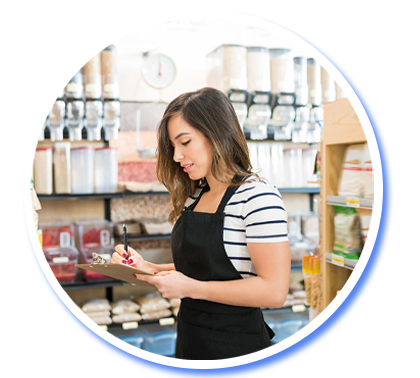 Incubation
To assist in the economic inclusion of Latin American migrant micro-entrepreneurs, we have worked on education and incubation for migrants. We have a contract with the Design and Technological Innovation Institute (IDIT) of Universidad Iberoamericana in Puebla, which has had an incubator for many years. In 2021, we encouraged IDIT to have a course with only migrant populations in their incubator. IDEAS accompanied the participants in their businesses at their homes for several months of the program.
Here is an example of a participant from the incubation program who benefited greatly: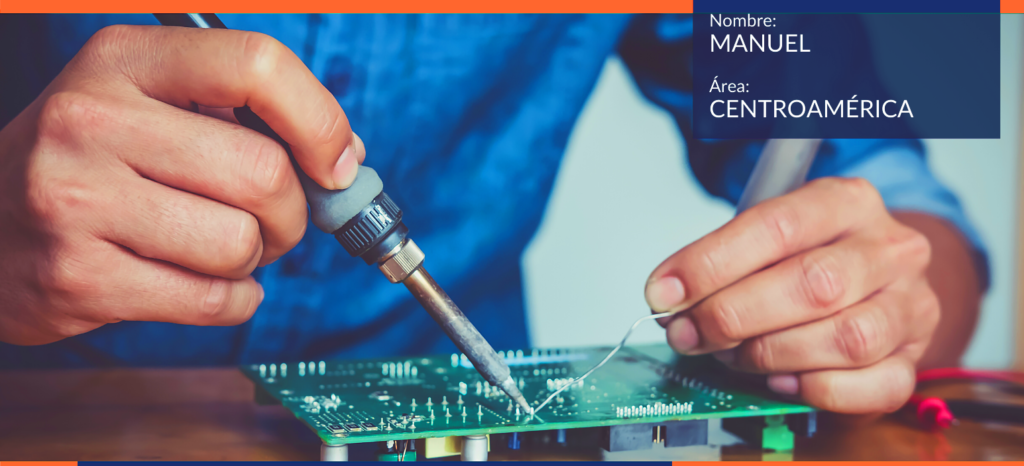 Sector: REPAIR AND MAINTENANCE OF TECHNOLOGICAL PRODUCTS | Resides in Puebla, Mexico

Manuel, originally from Central America, has lived in Mexico for 3 years.
Firstly, he tried different activities, such as making typical Central American products, an endeavor that was not profitable, leading him to close that business. Later, he secured a job as a sales promoter, but after a few months and due to the low income received, he decided to leave the job.
He resumed and enhanced his knowledge of computer repair and maintenance and found work in a location in front of a university with high demand from students. Owing to his sales skills, he was hired by a Mexican, and over time, he asked the owner for a space in his business, where he continues to work today.
Manuel knew he needed more formal education to be an entrepreneur. He participated in the "Destino Emprendedor" Program, led by the Design and Innovation and Technology Institute (IDIT) of Universidad Iberoamericana Puebla with the support of the IDEAS.
The incubation process allowed him to learn and practice the principles of administration, management, and application of technology in his venture, providing him with new possibilities to improve his life.
Lessons learned:
Research the supply and demand of services and products in the location where they have settled.
Invest in a business or job first, test it, and do not be afraid. Keep adapting until you find something that can stand out from the competition.
Learn to form alliances (to promote products and obtain new clients) with members of the community. Establishing a working relationship with a Mexican was key, as he helped with his knowledge in the development of new technologies.
Diversify income through side jobs to obtain more working capital.
"My dream is to obtain a loan to purchase a machine that will help me perform more sophisticated repairs and further grow my technology company."
Financial Inclusion
Migrants arrive in the country with little money and/or only small remittances from their relatives in their home countries. Under these conditions, they start formal businesses in their crowded homes or on the streets. If they decide to create their own companies, they need to seek access to:
remittances
basic accounts with debit cards
savings accounts
loans
credit cards
insurance
Unfortunately, even those who have developed viable businesses find that most Mexican financial institutions face challenges in considering them as potential candidates for loans and other financial services like savings accounts and insurance.
This is where IDEAS offers its services to this population, leveraging its three decades of work with microfinance institutions in Latin America, its grasp of technical language, and ways to approach the leaders of these institutions to support their financial inclusion.
It is necessary to work with multiple different institutions ranging from banks, Fintech companies, savings and credit entities, and microfinance institutions to encourage these associations to be part of the solution to the financial exclusion of migrants.
We seek partner institutions willing to assist Latin American migrant and returnee micro-entrepreneurs. We have spoken with over thirty financial institutions over the past three years, aiming to encourage them to lend to this population. Some types of institutions are restricted from offering credit solutions due to their internal regulations. Others assume they are not allowed to lend and are surprised to learn through IDEAS that the rules have changed to allow migrants to receive their financial services. IDEAS works with a national association of pro-bono lawyers and other organizations to provide these financial institutions with up-to-date information so they can promote financial inclusion and offer their services to resident migrants.
Some financial institutions, like savings institutions, have a broad offering of capital to lend, but they may shift their focus to view the rapidly growing Latin American migrant and returnee population as a potential market. Others need the technical assistance of IDEAS to help them find impact investments, often from the USA or investors from other countries. There are Mexican investors, family foundations, and other organizations that need complementary information or a stimulus to lend their capital. Some institutions also require investment to train staff working with the Latin American migrant and returnee population. IDEAS works with all of them to create new financial products designed to incorporate this population into their general financial services.
Financial program
SUCCESS STORIES
Salvadoran Micro-entrepreneurs in Mexico who Achieved Financial Inclusion
Some Central American migrants arrive in Mexico with a long history of being successful entrepreneurs and borrowers. However, they have not found any institution that lends to this type of profile, even when they have the legal status to borrow.
Judith, a forty-seven-year-old Salvadoran refugee living in Mexico, could not find credit since her arrival years ago. However, one of our microfinance partners recently entrusted Judith with a first loan for her family food business. The microfinance institution also provided training to grow her micro-business so she could make small weekly payments.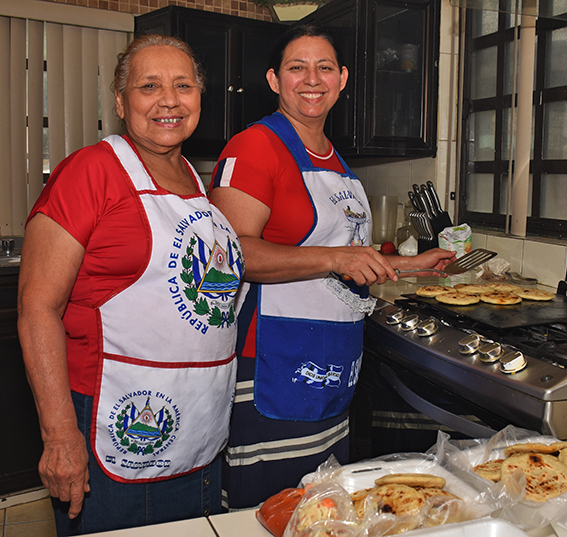 Immigrant grew her business with training and loans.
Cándida arrived in Mexico thirty years ago fleeing the war in El Salvador. In her apartment's kitchen, she began cooking and selling tasty dishes to Salvadorans. Without money to buy more ingredients, she could not meet the rising demand and expand her business. Even though she had legal status, no Mexican institution gave her credit. Despite being there for three decades, lenders did not trust her as a refugee.
After training, she learned to increase her daily income so she could borrow. At sixty-seven, she became a borrower for the first time. With her loans, she has been able to buy more ingredients and sell more. She has now hired a younger Salvadoran cook to help her meet the growing demand. The institution's training taught her that, to truly grow her customer base, she needed to learn to prepare Mexican food, and this has brought in many more customers.
She obtained her first savings account and now puts additional income into the bank's safety on Mondays to be ready to buy on Thursdays and prepare for the weekend's bigger sales days. She created a Facebook page so customers can order and pick up food. This has been very important during the ongoing sudden surges of COVID-19 when people want to limit their contact.
For more examples of success stories.